BASIQ, an acronym of Bottega Alimentare della Sostenibilità, Identità e Qualità (Food Store of Sustainability – Identity – Quality),, is a project for the innovation of fruit and vegetable and livestock supply chains, developed within the ambit of sub-measure 16.2 "Support for pilot projects and in cooperation with the Integrated Supply Chain Project "Eat local today for a sustainable tomorrow" PSR Regione Toscana 2014-2020
The project aims to valorise the products of the "La Bottega di Stigliano" TPA by clearly characterising its:
– environmental SUSTAINABILITY
– IDENTITY and traceability of foodstuffs
– QUALITY for human health
SPECIFIC GOALS AND INTEGRATED ACTIONS
– Cooperation/ transfer of knowledge from researchers and technicians to workers in the supply chain with the aim of identifying more sustainable productive processes and valorising the raw materials offered by the territory;
– Experimentation/ex-novo setup of environmentally-friendly fruit and vegetable supply chains made up of long-lost local native varieties (pilot project);
– Transparency/communication of simple and clear information on productive processes, origin and characteristics in order to make the sustainability-identity-quality of the products an added value for the consumer;
– Education/distribution of good food practices in order to educate people about more aware and responsible consumption, a reduction in waste and healthy and sustainable lifestyles.
3 THEMES TO VALORISE THE PRODUCTS
SUSTAINABILITY
OBJECTIVE/ knowledge of the environmental implications of the productive supply chains and the finished and packaged products of the short food supply chain;
METHOD/ calculation of the Carbon Footprint and the potential environmental impacts of the life cycle of the products (LCA, Life Cycle Assessment), from the production of raw materials to processing and eventually packaging;
RESULT/ identification of good practices to optimise productions and create products of low environmental impact (low carbon).
IDENTITY
OBJECTIVE/ the valorisation of native genetic resources and the identification of a certain territorial reference (typicality);
METHOD/ genetic mapping (DNA barcoding) through molecular markers in the DNA of the raw materials and the processed products; comparative analysis of the original fresh product and the finished one;
RESULT/ guarantee of authenticity thanks to the molecular traceability of the products (information for the protection and safety of the consumer).
QUALITY
OBJECTIVE/ valorisation of the nutritional and food safety quality of the products of the short food supply chain;
METHOD/ determination of the antioxidants contained in fresh and processed products by identifying substances that contribute to protecting them from the oxidising damage of cells; characterisation of the total polyphenolic content; evaluation of the presence of chemical contaminants and mycotoxins in the products processed;
RESULT/ nutraceutical characterisation of the products (good quality and wholesomeness of the foods).
SHORT FOOD SUPPLY CHAIN PRODUCTS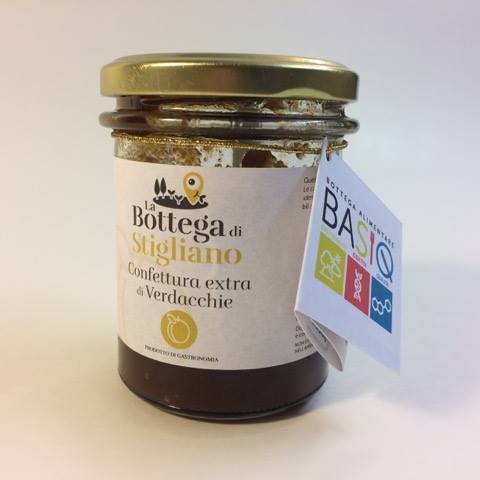 EXTRA VERDACCHIA JAM
The Verdacchia plum is an old and rare Italian plum. Verdacchia trees are mainly limited to barnyards and the areas around farmhouse and it is becoming increasingly rare to find.
It is produced by the Azienda Agricola San Giusto and processed by Cuoco a Domicilio.
Would you like to know how much CO2 is emitted in the production of a 180gr jar of Extra Verdacchie Jam?
● What nutritional qualities does the Extra Verdacchie Jam have?